Explosões em Londres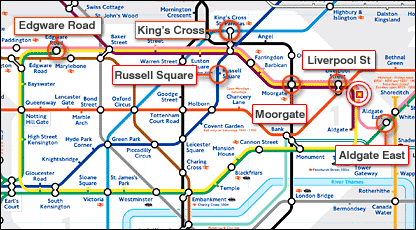 Mapa das explosões em Londres
O
site da BBC
está com uma cobertura completa sobre o atentado em Londres, no entanto, está lento devido à grande quantidade de acessos.
***
O
Blue bus
está com uma correspondente na cidade:
A seguranca aqui do predio acaba de liberar um comunidado pedindo que as pessoas fiquem no escritorio, pois a cidade ainda esta parada e caotica. Falei com amigos em outros escritorios ao redor da cidade e o comunicado é o mesmo - nao saia de onde voce esta.
***
The Monjo Blog
,
Livingroom,
Europhobia
,
Metroblogging
,
BBC
,
Guardian Blog
- blogs direto de Londres
***
OK, this is freaky.
Amanda, needs to go to London for a meeting. Malcolm looks online and finds out that the underground has been closed.Sarah calls me to say that there have been explosions in London.Morgan calls me no more than 5 minutes later to say that there have been explosions, and that there are also busses involved.Andrew is trying to get into London to get a visa sorted out, and can't cos of all the chaos, so he's on his way back
Relato no Oneafrikan.com

***
Diversas fotos feitas por cidadãos começaram a ser publicadas no Flickr aqui, aqui, aqui e aqui.